Protecting your home from storms and other forces of nature is essential. In Tampa Bay, we see some of the most lightning and storm action of any city in the United States. The two best styles of hurricane shutters for apartments are Colonial and Bahama.
Colonial Shutters
Colonial hurricane shutters for apartments are made up of two pieces that affix to the wall next to the window. When prepared to protect against storms, they simply fold together. They also don't require any extra storage space. Colonial shutters permanently attach to the outside of your home and provide additional benefits as well. For example, creating a beautiful appearance to the exterior of your home. To get ready for a storm in Tampa Bay, you only need one person. Easy set up is one of the luxuries of colonial shutters.
Bahama Shutters
Another popular style is Bahama hurricane shutters for apartments in Tampa Bay. Rather than two pieces, these are one solid piece that attaches above the window instead of on the sides like the Colonial style. Because they louver above the window, they can provide extra shade. Plus, when it's time to prepare for a storm, you simply lower them down and secure them. Like Colonial shades, they can be deployed by a single person in a matter of minutes, and don't require any extra storage space. They, too, can enhance the look and appearance of your home. Additionally, they provide extra shade and privacy. Not to mention the extra security that the durable aluminum build will provide for your home.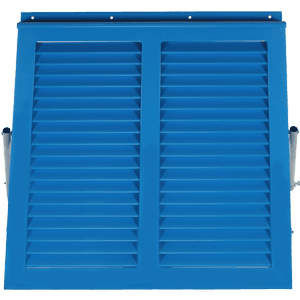 Installing Shutters for Apartments
Before buying and installing hurricane shutters for apartments in Tampa Bay, check with your landlord or the property owner to make sure you have permission to do so. Many rental properties are okay with residents adding permanent fixtures, especially if they enhance both the safety and appearance of the home. However, it is best to check first, since some may have a reason they would prefer you didn't. If they say no, you can show them the many benefits of shutters and how they will improve the property. Insurance companies will also usually give you a break on premiums if you have proof you're taking preventative measures against hurricane damage.
Welded Construction
Welded construction makes the shutter extremely durable. Increasing the overall strength of the shutter by creating a seamless finish. This seamless finish also decreases any pitting or rusting. There are tons of moisture and salt in the Florida air, and those elements not a friend of aluminum. Welded construction eliminates cracks and crevasses and, in turn, prevents any rusting or pitting that happens because of salt and moisture building up.
Furthermore, with welded construction, there's no need for screws. This is beneficial because screws create electrolysis when in contact with aluminum. Then, when salt spray comes in contact with the different metals, this speeds up the corrosion process.
Be Prepared. Choose Master Aluminum for Hurricane Shutters for Apartments
For Tampa Bay residents looking to protect their home during storm season, look no further than Master Aluminum. Our hurricane shutters for apartments protect homes and enhance their style. This is an affordable, convenient option that boosts your safety and the aesthetic of your home. Our shutters are simple to use, lightweight, easy to install, and effective against storm damage. High winds, heavy rains, and projectiles don't stand a chance against our welded construction tactics. Welded construction means that our products are stronger than others, and the powder-coated finish protects the aluminum from UV rays, rain, salt, and more.
Call Master Aluminum today at (727) 725-1744 or contact us online to place an order.